About Us
MISSION STATEMENT
Our staff here at All Seasons Cooling & Heating is committed to provide quality at a fair price to our customer.
ABOUT THE COMPANY
All Seasons Cooling & Heating was formed in 1996 and became a corporation in 1997, and is operated locally in Bradenton, Florida. As a member of the Better Business Council and the Manasota Air Conditioning Contractors Association we are able to stay currently informed with the latest changes in the industry. Our staff is fully trained and certified for competent diagnoses and repair for residential and commercial structures. All service vehicles are fully stocked with the necessary supplies to complete most tasks. We are fully licensed as a state certified HVAC contractor. License # CAC057191.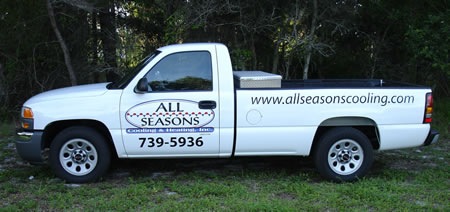 CALL US TODAY AT 941-739-5939 OR CONTACT US ONLINE
---
Our History
Marc Gigstad, owner of All Seasons Cooling & Heating, attributes the success of the company to the quality of his employees. 'I get compliments all the time about them.'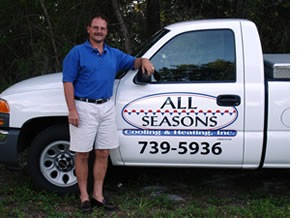 All Seasons Cooling & Heating is a full service air conditioning company. We carry all insurance that is required by the state of Florida. We offer new construction, service, light commercial, and change-outs. We install comfort systems in homes from less than 1,000 square feet to over 10,000 square feet. Our service department has highly trained technicians who are constantly updating their education.
All Seasons Cooling & Heating was founded in 1996 by owner Marc Gigstad. After working several years in the restaurant business Marc had a desire to get into the air conditioning industry. Because of his integrity and hard work he has created a company that can offer customers excellent service at a fair price.
At All Seasons Cooling & Heating our number one goal is customer satisfaction. We know how valuable our customers are and we want to keep our customers happy. When our technicians leave your home, we want you to be 100% satisfied with the job that we did and know that you are pleased with All Seasons Cooling & Heating
If you have any questions, please call us at 941-739-5936 or use our online form to request an appointment.