Join The Plan
As A Comfort Protection Plan Member You Will Receive: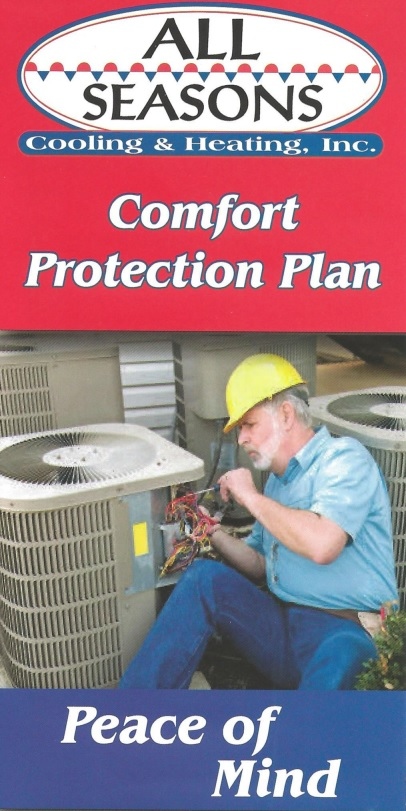 2 Scheduled maintenances a year
15% discount on all repairs
Priority customer service
No overtime rates
Agreement is transferable
What Does A Comfort Protection Plan Visit Include?
Our trained specialists have experience with a wide range of brands and types of air conditioners. Our preventative maintenance strategy covers the following:
Check for Proper Freon Levels
Test Electrical Components and Controls
Check Evaporator Coil
Clean Condenser Coil
Clear Drain Line
Lubricate Motor and Other Moving Parts
Calibrate Thermostat
Inspect Condenser
Check and Clean Filters
Check Operating Pressures and Temperatures
21 Point Inspection based on Manufacturer's Recommendations
Make any recommendations of needed repairs
What is a Comfort Protection Plan?
Our CPP is a preventive maintenance agreement that provides you with regular system checkups. It is a twice-annual planned checkup, and it is designed to meet or exceed all manufacturer and extended warranty requirements for system maintenance. Preventive maintenance is required by most manufacturers to maintain the warranty on your equipment.
Benefits of Maintenance:
Lower Energy Bills
A poorly maintained air conditioner must work harder to provide the same air quality and temperatures as a well-maintained unit. This means higher energy costs, so with a simple maintenance you will save energy and money.
Improved Indoor Air Quality
Clogged filters and dirty components can cause poor air quality in your house which often results in allergies or other breathing problems. Frequent maintenance prevents this.
Lower Repair Costs
Preventive maintenance may save you a lot of grief, time, and money in repair costs by preventing and catching small problems before they become bigger and more expensive problems.
Extended Equipment Life
Taking care of your Air Conditioner unit will extend its life and help it operate more efficiently.
Peace of Mind
As you can see, you can benefit from Air Conditioning preventive maintenance with lower energy bills, fewer repairs, and extended equipment life. The Air Conditioner system is such a valuable investment that it makes great sense to take care of it.