Testimonials
"Thank you again for your service and honesty."
Michael & Kathy
---
"A very belated note of thanks for sending the check for the additional FPL rebate of $42. I certainly would have been none the wiser and your honesty is most refreshing! I am enjoying a 'cool' home and appreciate all your hard work. Continued success in your business."
Mary Kay
---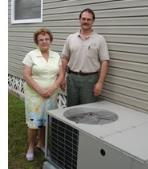 "We just want to say a special thanks to Todd and let you know you have a good worker there! We are very pleased with All Seasons. Thanks."
Colleen & Roger
---
"On behalf of the youth and staff of the Manatee Runaway and Youth Crisis Shelter, I would like to thank you for your sponsorship of the Run for Runaways. It is encouraging to see families such as yours taking an active interest in their community! Thanks for all you do!"
Sara
---
"I would like to take this opportunity to thank you for your excellent work associated with the replacement of our two residential air conditioning systems. We are extremely pleased with the quality of the system installation and its performance. Throughout the entire process (quotation through installation) you were very dependable, efficient and courteous. The end result has demonstrated your commitment to quality and customer satisfaction and it has been a pleasure doing business with you."
Bob
---
"Thanks for your prompt service. We had out of town company so the A/C helped. Thanks again."
Marilyn P.
---
"Thank you again for your Service and Honesty."
Kathy R.
---
"Thanks for the Quick Response on my Air Conditioning."
Russ J.
---
"We really thank you for coming out to our house last Friday as we were getting ready to leave for the summer. You made it possible for us to leave Saturday morning on time. It is so nice to find someone who cares. Thanks again for your kindness."
Stan & Nancy S.
---
"Thank you for your good service."
LeVerne S.
---