Heat Pumps
In the cooling cycle a heat pump works the same as an air conditioner, removing heat from the home and blowing in cold air.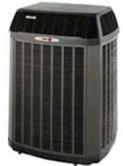 In the heating cycle of a heat pump it is just the opposite; heat is taken from the outdoors and the warm air is blown into the home, even on a thirty-two degree day a heat pump will keep the home very comfortable. In the winter months when your comfort system calls for heating the cycle of the refrigerant is reversed by a reversing valve in the outdoor section of the system to provide the heat for your home.
Heat pumps are designed to heat the home at all times, if the temperature in the home is allowed to fall too low the heat pump will operate for longer periods of time to heat the home back to the desired temperature. Heat pumps are much more efficient than electric heat, 30% to 40% less energy is used by heat pumps than electric resistance heat.
All Seasons Cooling & Heating carries a full line of heat pumps from 14 SEER all the way up to 20 SEER. The SEER (Seasonal Energy Efficiency Rating) rates the efficiency of heat pumps, the higher the SEER rating the more energy efficient the heat pump is.